Two bartenders from Venice Beach who love good beer founded Venice Duck Brewery. Venice Duck was inspired by a local legend of a guy who went to a party in the Venice canals and woke up the next day on the sidewalk covered with ducks.
We are proud to distribute Venice Duck. 
Turbo Energy & Diet Drink 
Bar & Nightclub patrons want the taste and functionality of the Market Leader. Turbo Energy Drink boasts the closest taste profile to Red Bull™*  in the country while alowing you to put it on your soda gun.  With proven sales across the US, you can trust Turbo Energy Drink's quality and track record to add value to your on-premise energy drink offering for bars & nightclubs! At sixty percent less Turbo makes it an easy choice.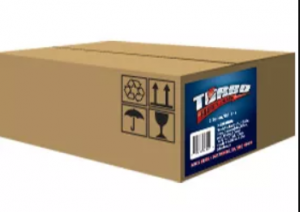 Why is Turbo Energy sold in a Box

The vast majority of Turbo Energy Drink is sold in a Bag in Box format (delivered through a bar gun or fountain). Since we opened our doors in 2007 we have remained committed to serving Turbo Energy Drink from a Bag in Box. We remain committed to this format as it simply makes sense. The majority of Bars, Nightclubs, Casinos, Convenience Stores, etc. (over 5,000 in the US alone) selling Turbo Energy Drink sell A LOT of it. The basis of our business is that we simply make the BEST tasting energy drink, with all the functional ingredients (plus Ginseng!) of the leading energy drink on the market, at a lower cost both to sellers and consumers.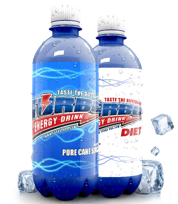 Turbo Energy Bottles
Our 24 count Case of 16.9oz Turbo Energy Drink Bottles comes in our Pure Cane Sugar Regular Flavor and our Diet Turbo Flavor! This format is ideal for on-premise, C-Store or other Retail Accounts!
Turbo Blue and Orange Energy
Turbo Energy Drink Orange is a delicious blend of refreshing orange & tangerine and features an energy blend that will keep you going day or night!  Made with Pure Cane Sugar – Turbo Orange will help increase your profits per drop! Turbo Energy Drink Blue is made with a proprietary blend of GABA, caffeine & B vitamins. All the great flavor & energy of regular Turbo, without the jittery, edgy feeling associated with Taurine!